Wednesday, August 24, 2011
You guys, sometimes I like to search the internet for curtains I will almost definitely never buy because I am basically a complete masochist. I am like completely incapable of spending $100 on curtains. I can basically never bring myself to do it.
I tried to make an exception and went to Home Depot last year to buy roman shades for my living room, but we ended up getting some roman shades on clearance for $10 each. Thirty bucks total for my whole living room!
seriously, i got them for $30 total. go go gadget clearance!
I typed all this babbly stuff about iphones and cameras but them my husband told me how to get my picture somewhere useful. Publishing to mobile me! Which is apparently going away, so I do still need a picasa solution.
(I tried to take some phone pics and upload them to picasa to use on my blog, but none of my google friends are around to tell me what magic iphone app works for that. If you know, clue me in! Also if you have one of those online "how to take good pics for your blog" courses to recommend, let me know. I think I need a refresher course. I even have a nice enough camera. *sigh*)
A Detailed View
In any case, they are red, which I love for winter, but for summer/fall I'd like to do something in a green blue palette. Also since then we got some free furniture that is more steel blue/beige/green, so red is not really on the menu. I can't find anything for $30, though, so I'm totally spoiled and haven't been able to take down my roman shades.
Target and JC Penney are favorite places to fantasy shop in the realm of "might actually buy", but Pottery Barn and Restoration Hardware are where I look when I want to pretend like I have a zillion dollars to spend. I should actually check out if Garnet Hill has window stuff, because MAN Garnet Hill is full of pretty.
jcp.com
These from JC Penney are really pretty nice. And on Clearance! Even on clearance, they are $59 a piece. That's like $175! Man, I am so spoiled from my $10 roman shades.
I normally prefer JCP to Target for curtain shopping online + added self loathing. JCP seems to have easier categories to work with, but Target recently changed their website, so it's better.
target.com
These are pretty cute, and in my size they're only $44. That's not too bad! Still over a hundred bucks, but I am starting to believe my magic $30 roman shades were a freak of shopping. (I mean, guys, they had a damask roman shade with a sheer roman shade all together! lovely! i should have bought them in every color.)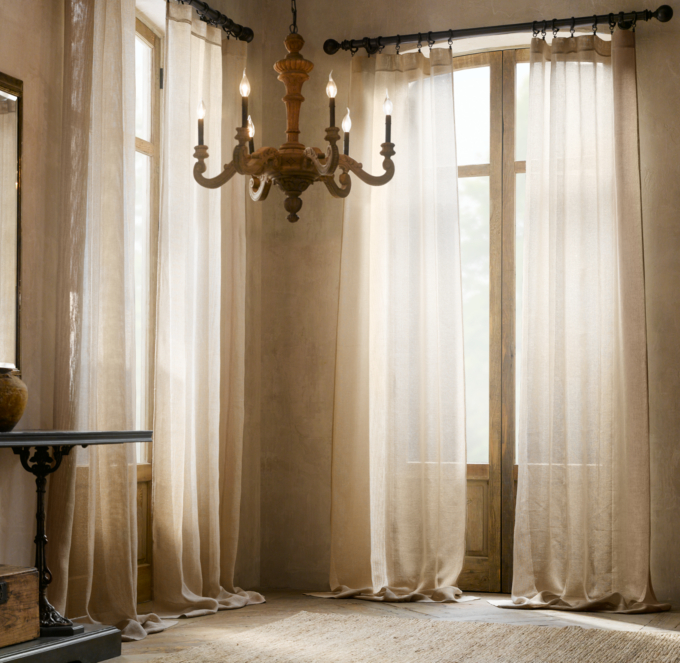 Restoration Hardware
Restoration Hardware has some fabulous sheers, especially. But at $99 a sheer, maybe out of my $30 range. Still lovely, and I like the idea of sheers in the living room, as long as they are pretty. I wonder if there's a DIY way of dressing up some plain white sheers. Maybe ribbon trim along the sides? Hrm.
Also, it turns out that Garnet Hill does have a small selection of curtains. Which are fabulous, of course, because it's Garnet Hill.
Garnet Hill
Lovely, and I love the colors, too. But! $158 a piece, so no thanks.
Someday when we are no longer under construction and have disposable income for expensive curtains...... I still won't pay $158 a piece on account of how I am super cheap. Oh well, I will have to head back to JCP to find something more reasonable.
Why are curtains so much money, anyway? Am I missing some magical cheap place to shop for curtains?